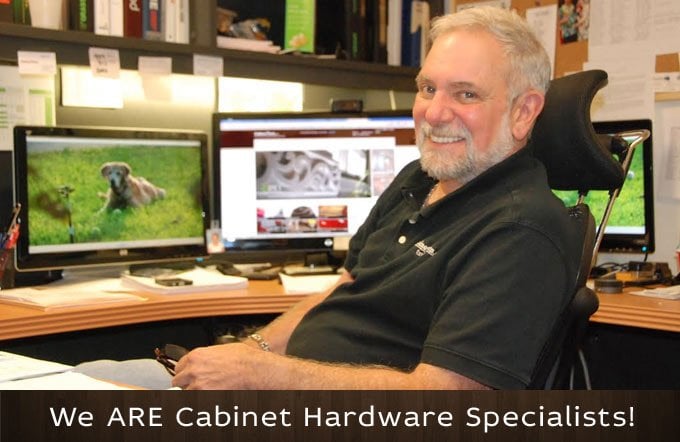 It's what we Know, Do and Love!
I started this business in 1997 with my ol' pal Charlie. With one goal in mind, we set out to create the best online shopping experience for those who needed my help and knowledge finding the best cabinetry hardware for a fair price.
Well almost twenty years later, I'm still doing the same thing and loving it more than ever!
Thanks to people like you, the company has grown beyond my greatest expectations. As the President and Founder, I'm still setting the direction and writing the checks. But now, I have a team of over 25 smiling, hard working individuals helping to serve the daily hardware needs of thousands of customers across this great country of ours. Most of the team are former cabinetmakers who love focusing entirely on the customer and providing the best functional and decorative hardware for kitchens and baths.

Your #1 Source for Cabinet Hardware, since 1997
Here's what we do.
We provide the Best Customer Service and Technical Expertise to ensure you always receive the broadest product selection, latest innovations and superior performance. Our easy online ordering system results in quick, direct shipped, quality products, all at a great value to you. Plus, we are extremely knowledgeable in product benefits, uses and installation for the items we recommend to you.
Your Satisfaction is Guaranteed
At CabinetParts.com, we strive to bring you the best online shopping experience in the industry. We are proud of what we do and want you to be completely satisfied. All we ask, is that you please remember to recommend us to your friends and family.
We always stand behind what we sell. We carefully inspect your order prior to shipment to ensure it is correct. If you are dissatisfied for any reason, please let us know immediately and we'll make it right.
Returns and Exchanges
You can return new, unused items for a refund or exchange by requesting Return Authorization. Please ensure that your return is in its original product packaging within 30 days of delivery. You are responsible for return shipping charges, except in the case of defective, damaged or if you received the wrong product.
We cannot accept returns on special-order items, or on items with installation related damage or items damaged during shipment to us. We cannot accept returns of final-sale items.
Need a special Replacement Hinge?
Replacement hinges are our unique specialty. Our foundation as a source for unusual and hard to find European hinges is stronger than ever at Cabinetparts. Our Hinge Matching Specialists assist you in finding the perfect replacement match for older European hinges. We provide hundreds of matches every week.
Rapid Delivery - National Distribution Network
With over 30,000 products shipping from multiple US distribution centers, we quickly fulfill your cabinet hardware needs. Our commitment to quality service translates to shipping your orders from the distribution center closest to you, for the fastest possible delivery.
Meet the Original Team

Pat: Pat is our Cabinet Man or Renaissance Man or Cave Man, depending on who you believe... Pat spent his early years in the leather and furniture making trades in Mystic, CT. A Worcester Polytechnic Institute grad, he immediately put his engineering degree to good use (oozing sarcasm) in Florida in the early 80's becoming a carpenter (hippie). He established a successful business specializing in custom, high-end woodworking during the "excessive 80's." While surfing Al Gore's Internet in the early 90's, a fluorescent (energy efficient) illumination drew Pat's attention to the world-wide-web. Knowledge of cabinet-making, European hardware and the DOT.COM Boom formed his concept to "help save the world!" Luckily for us, CabinetParts.com was a success and Pat's had a steady job ever since.

Joe: Joe is the designated business driver of CabinetParts.com because he knows the direction, distance and the difficulties along the way. Joe believes strongly in Japanese business philosophies and tenets such as Kaizen. But sometimes these concepts are confused with practices popular in Feudal Japan. Several of us were chased by a sword wielding Joe last week when we came back late from lunch.

Polly: Polly joined CabinetParts.com back in 2004 on a deal with the government when they mistakenly thought we were a half-way house. Polly aka "The Whip" brought with her an extensive knowledge of the cabinet business and the ability to beat up any unruly members of our team. Our growing product line is only one of the many contributions Polly has made to the CabinetParts.com team.

Andrew: While Andrew is often mistaken for a Disney Ride with legs, he is actually the sultry voice many of you will hear over the phone when placing your orders. Andrew's contributions to the CabinetParts.com team have proved invaluable with his skills with part matching and finding exactly what our customers need.

Richard: Richard is our web guru because he has the ability to work magic with scripts. It is almost "Matrix-like!" While continuing to monitor, maintain and expand our web site presence, Richard still finds time to work on his plans of World Domination which we curb with regular feedings of "Starbucks" caffeinated products.

Mat: Mat has the huge task of making all the images on the website shine. We abuse the right that he knows it all, but he calmly answers all questions and designs all graphics with the highest quality. He also enriches our lives with new music day after day.

David : David's knowledge of furniture construction is an invaluable asset to the CabinetParts.com sales team. His jack-of-all-trades and inventive skills have earned him the nickname "MacGyver." His hobbies are working as a party DJ and art. Did we mention he used to be a nude foot model.

Katrina:Katrina, our controller/bookkeeper, is probably our most popular employee. Not just because she writes our paychecks, but more so because her husband is a big time fisherman and she brings us fresh fish weekly. Katrina spends her spare time defending her birthplace, which is the same as her daughter's, Boca Raton, Florida. And she claims to be the last native-born resident in Palm Beach County. Katrina was once featured on the cover of the National Enquirer with Prince Charles.

Charlie: Charlie, our Labrador Retriever, was born about the time CabinetParts.com began. Some of us feel that Charlie was the real driving force behind the company but other's see Charlie's purpose in life was to eat and sleep when he was not sniffing out balls to play fetch with. Unfortunately Charlie passed away in 2010 so he no longer romps the offices and warehouse of CabinetParts.com. View the article below to see how important he was to us.
---
Charlie the Dog
We were saddened to announce the passing on March 1, 2010 of CabinetParts.com oldest and most loved employee Charlie, our Yellow Lab, after a long and wonderful life. Charlie who was named for the Charley in John Steinbeck's "Travels with Charley" has been part of the team since Cabinetparts began in the back room of a warehouse 12 years ago. He even spent one summer on a 5000 mile road trip, but alas with no published book to his credits.
Charlie, born on Feb 14 1996, became a daily fixture at Cabinetparts since its beginnings in 1997. In the early days he was the glue that kept us positive and moving forward with his boundless energy, enthusiasm and playfulness. At times when we weren't even certain of our own survival as a business, it would be Charlie who would bring us a stick or ball to remind us what was really important. And after 15 minutes we would get over the hump. Those were special times for all of us.
He certainly brought joy to each employee that ever worked here. Fortunately, no one has been allergic to dogs. His daily routine for years was to start in the warehouse tearing up boxes and as the day progressed, would pay each and every one of us a visit for only reasons he would understand. Maybe a certain back scratch or the possibility of some forbidden food. We never were sure, but at some point in every day, we would find him under a desk somewhere, or at least sitting and staring with the message that he would do this for as long as it would take to get what he wanted. I would not see him for the entire day but by mid-afternoon, he would always be under my desk taking a nap until an inner alarm would signal it was time for us to go home.
In the early days, the UPS, FedEx and USPS drivers would bring biscuits and it would not be unusual to see him climb up inside the UPS or mail truck trying to commandeer it. Christmas brought all sorts of treats and his birthday was celebrated each year with a cake and party (see photos) by us all. Of course, his birthday was Valentine's Day, which made it even more special!
The Sun-Sentinel, local newspaper for South Florida, even included Charlie in an article about dogs in the work place.
So thanks everyone for being a good friend and a huge thank you goes out to Dr. Lisa Feinstein, and her team at the Plantation Animal Hospital, for their patience, compassion and understanding during Charlie's last few days and our craziness.
We still miss you old friend and May you Rest in Peace,
Pat and Teeny